Welcome to Our Website!
Shades of Excellence has been involved in the Great Dane Breed since 1996. We are committed to producing the finest quality blue and black Great Danes.
Our breeding program is very selective. Our focus is to breed for health, temperament, longevity, and structural soundness. We certify for Cardio, OFA, Penn Hip, Thyroid, and CAER eye registry. All our puppies go out under a strict contract. We screen all our prospective adopters to ensure they have what is required to raise, grow, and maintain a healthy, happy Great Dane for his or her lifetime.
Our website features the latest news about our AKC show activities, photo and video galleries of current and past champions as well as Great Dane litters we have raised.
We are supportive members of the Great Dane Club of America. We actively show our Danes towards the goal of attaining their American, Canadian and United Kennel Club titles.
Take your time, browse our site and feel free to contact us if you have any questions.
Sincerely,
David & Cynthia Lutz
Shades of Excellence Great Danes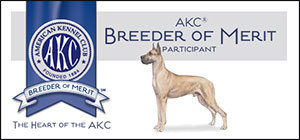 "Excellence is doing ordinary things extraordinarily well."
John W. Gardner